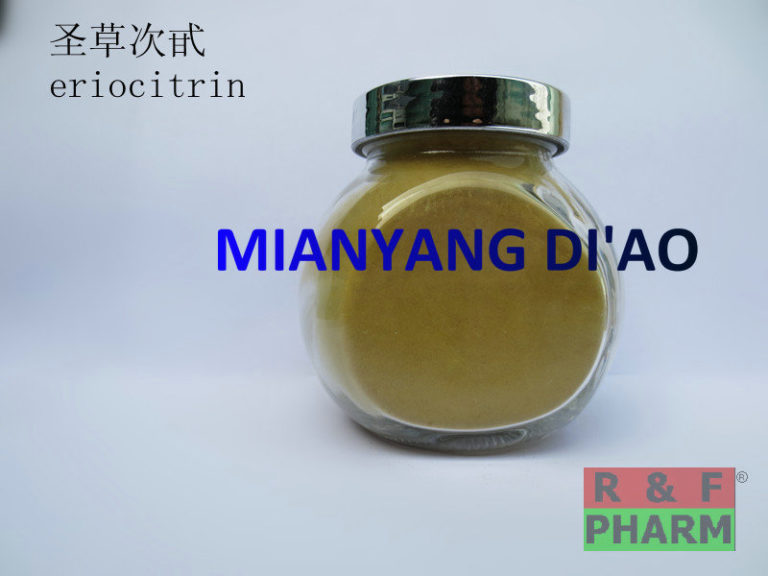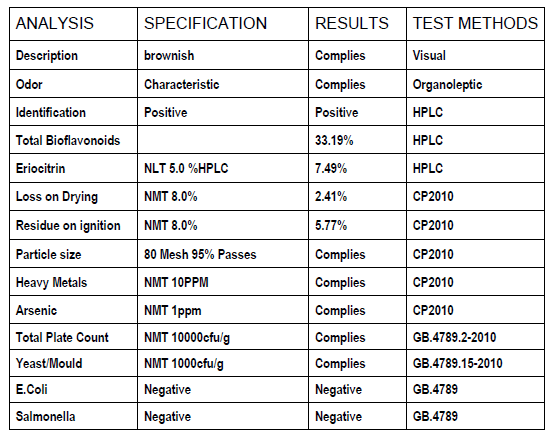 Eriocitrin is a flavanone-7-O-glycoside between the flavanone eriodictyol and the disaccharide rutinose. It is a flavanone glycoside. It is found at higher levels in lemon than in all other species of citrus. The principal citrus flavanones are invariably combined with various sugars, especially disaccharides.
Eriocitrin (eriodictyol 7-O-β-rutinoside), a flavonoid glycoside, is the key flavonoid in lemon fruit (citrus limon). It is very elusive and is the most soluble of all flavonoids.
Resource
It is an ingredient derived from natural products, and it is contained in a juice of citrus fruits such as lemon and lime which have been already eaten in a large amount of several tens of milligrams per 100 ml.
Further, a peel and a squeezed residue are secondary products provided in squeezing a fruit juice. The extraction of an active ingredient by reusing these portions is industrially quite useful, and this is extremely profitable from the aspect of utilizing a waste. Still further, in the industry of the fruit juice, besides the peel and the like, waste liquors such as feeding water and washing water used in that treatment are provided in large amounts, and these can be utilized as eriocitrin solutions.
How it works?
Eriocitrin and its metabolites by intestinal bacteria (eriodictyol, 3,4-dihydroxyhydrocinnamic acid, and phloroglucinol) exhibited stronger antioxidative activity and had approximately the same activity as (-)-epigallocatechin gallate. It and its metabolites are powerful antioxidants
Applications
(1) Soft drinks black tea, barley water, green tea, oolong tea, blend tea, wild grass tea, herb tea, coffee, fruit juice, vegetable drink, cocoa, soybean milk, sports drink, carbonated drink, and milk drink
(2) Health foods vitamin drink, nutrient and nutrient aid food
(3) Other foods seasonings, vinegar, dressing, soup and "furikake" (foods for sprinkling on cooked rice)
(4) Alcohols cocktail, "chuhai" ("shochu" (low-class distilled spirit) diluted with soda water), "sour" (mixture of spirit, lemon juice, sugar, etc.), beer and wine
(5) Sweets candy, biscuit, caramel and snack sweet.
Side effects
It is certified that there is no problem with a safety to humans. It is negative in the mutagenicity test according to Rec-assay or Ames assay.
Di'ao supply high quality Eriocitrin.